"Art Historian" jacket, 2021
Vinyl lettering on nylon windbreaker
A black windbreaker with "ART HISTORIAN" in large white letters across the back, and in smaller letters on the left breast, mimicking a security guard's uniform.
Portrait photographs by Simranpreet Anand.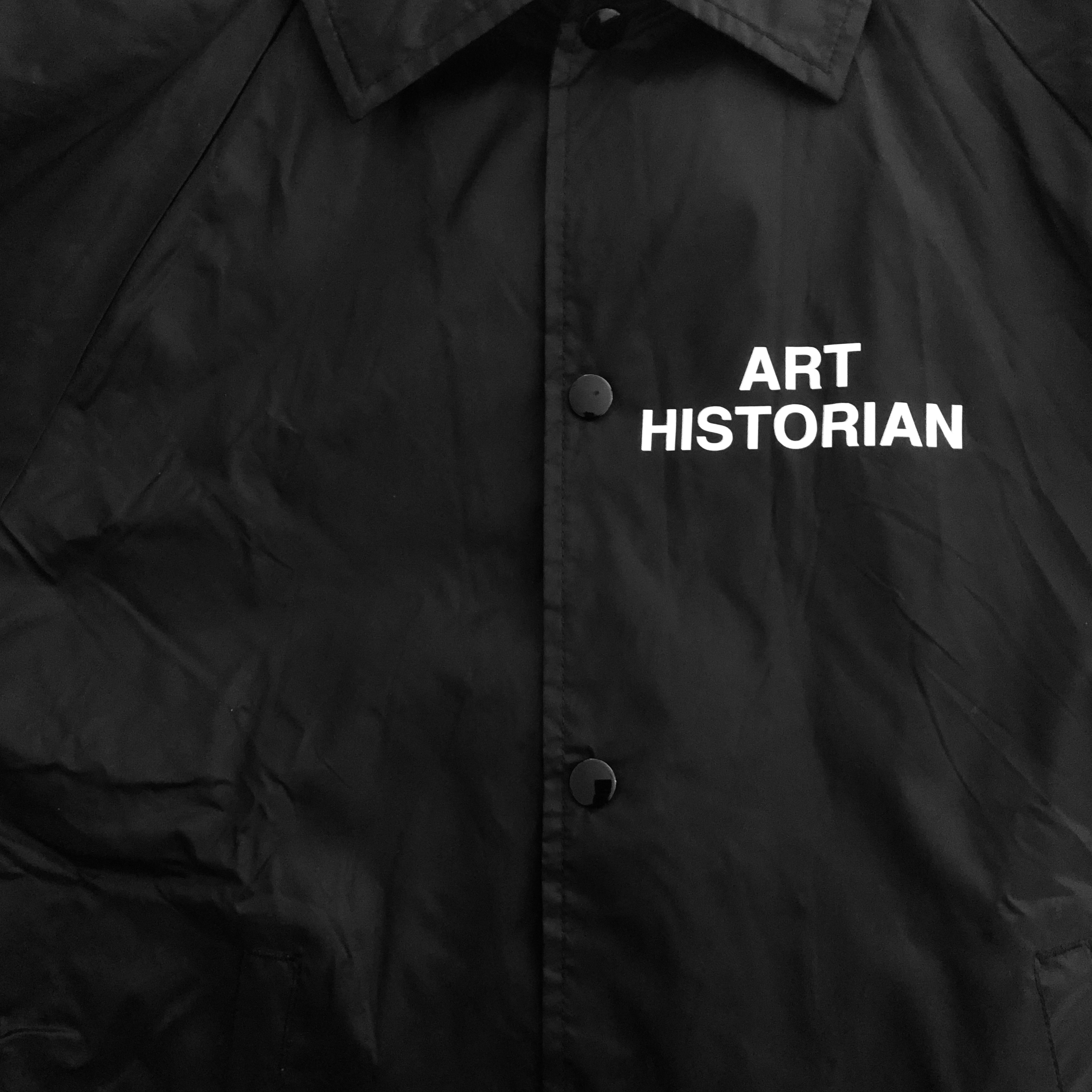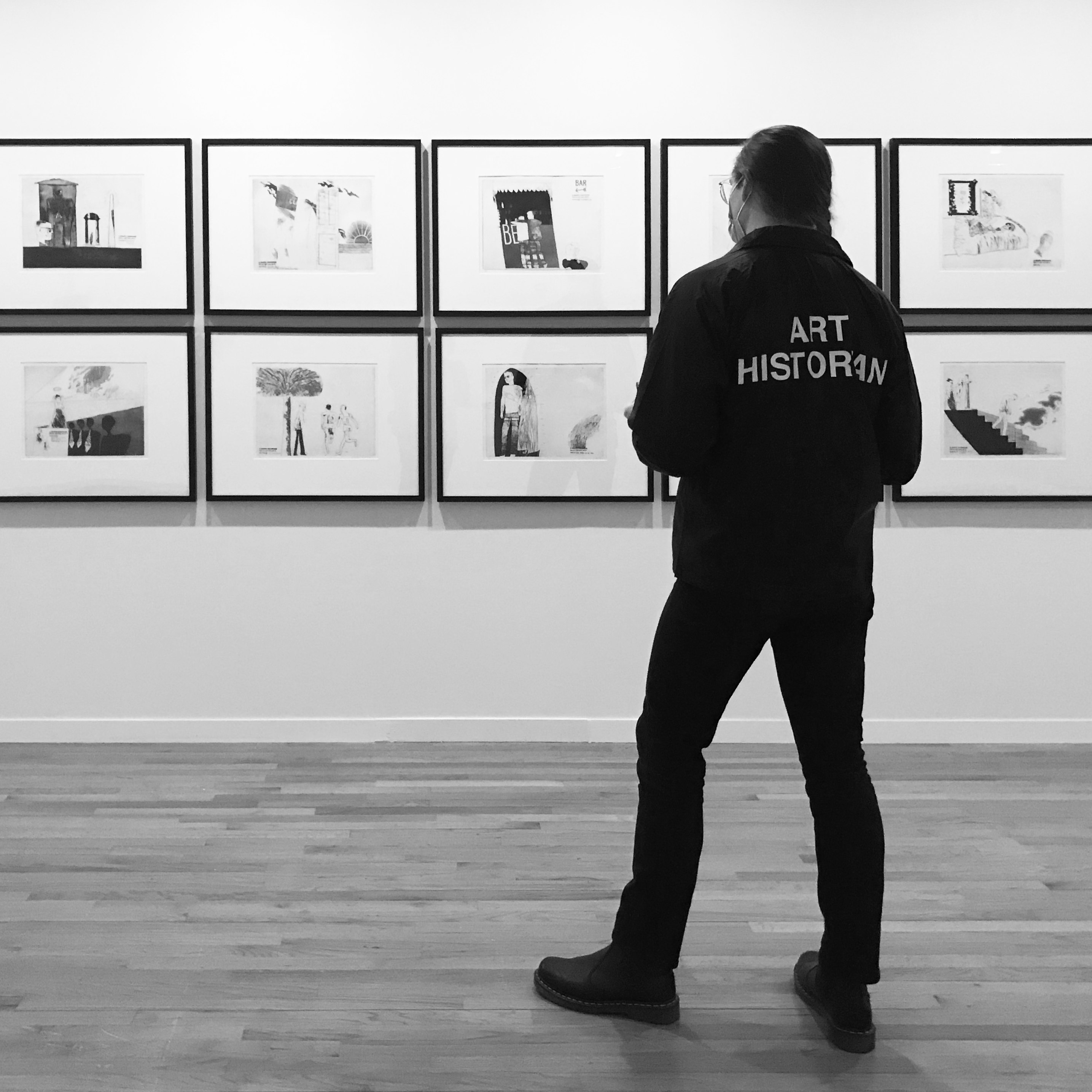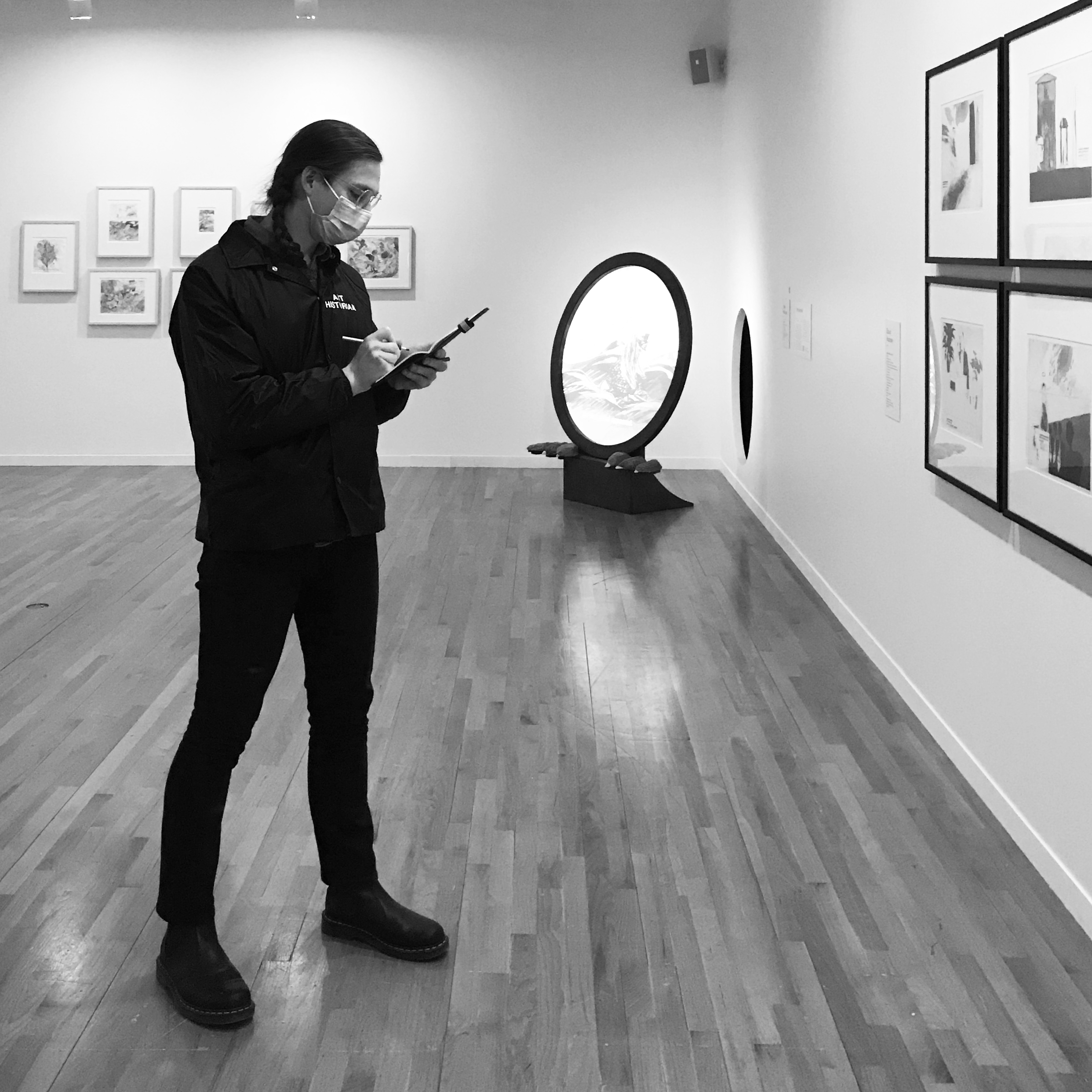 Past Performance, 2021
Twenty two tarot cards
The Major Arcana of the tarot, with the phrase "past performance is no guarantee of future results"—a standard piece of fine-print from the finance industry—in the place typically occupied by a copyright claim.
The illustrations were drawn by Pamela Coleman Smith in the early 1900s. They formed the basis for the Rider-Waite-Smith tarot deck, which is still in print by US Games (who claim copyright over it). The line art was also included in the book "The Pictorial Key to the Tarot" by A.E. Waite, which is now in the public domain. My cards are based on scans of that book, taken from the "Sapphire Museum of Magic and Occultism on Line."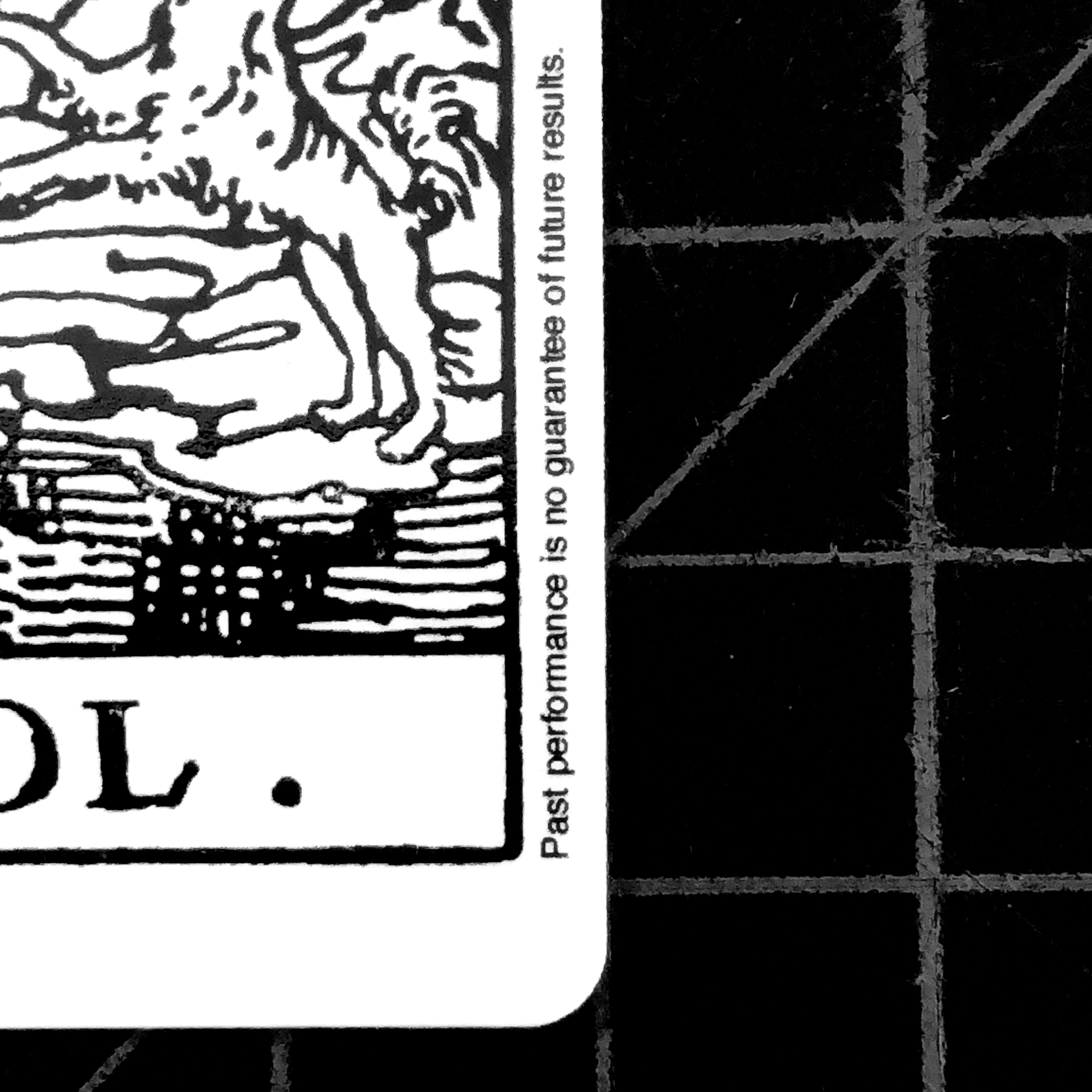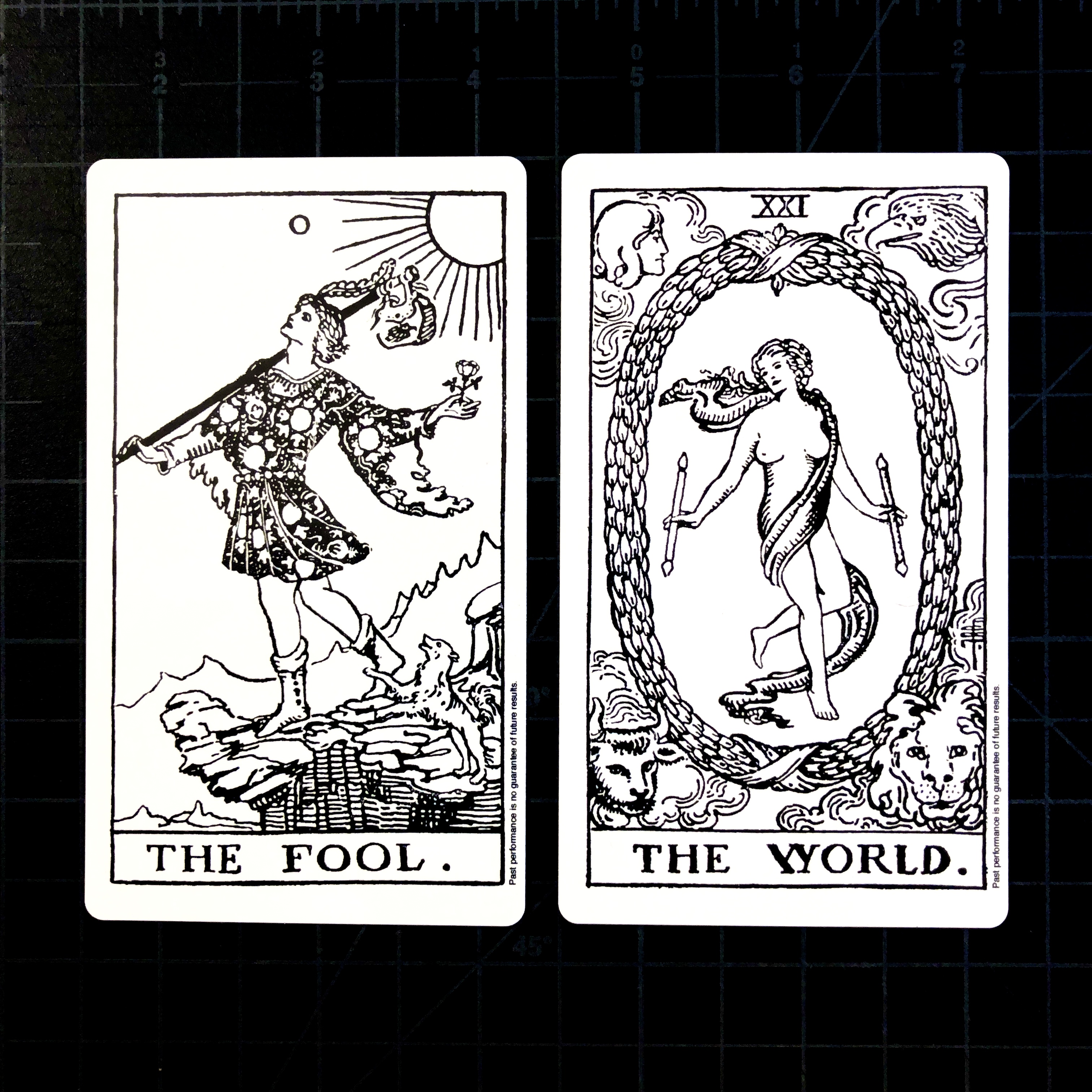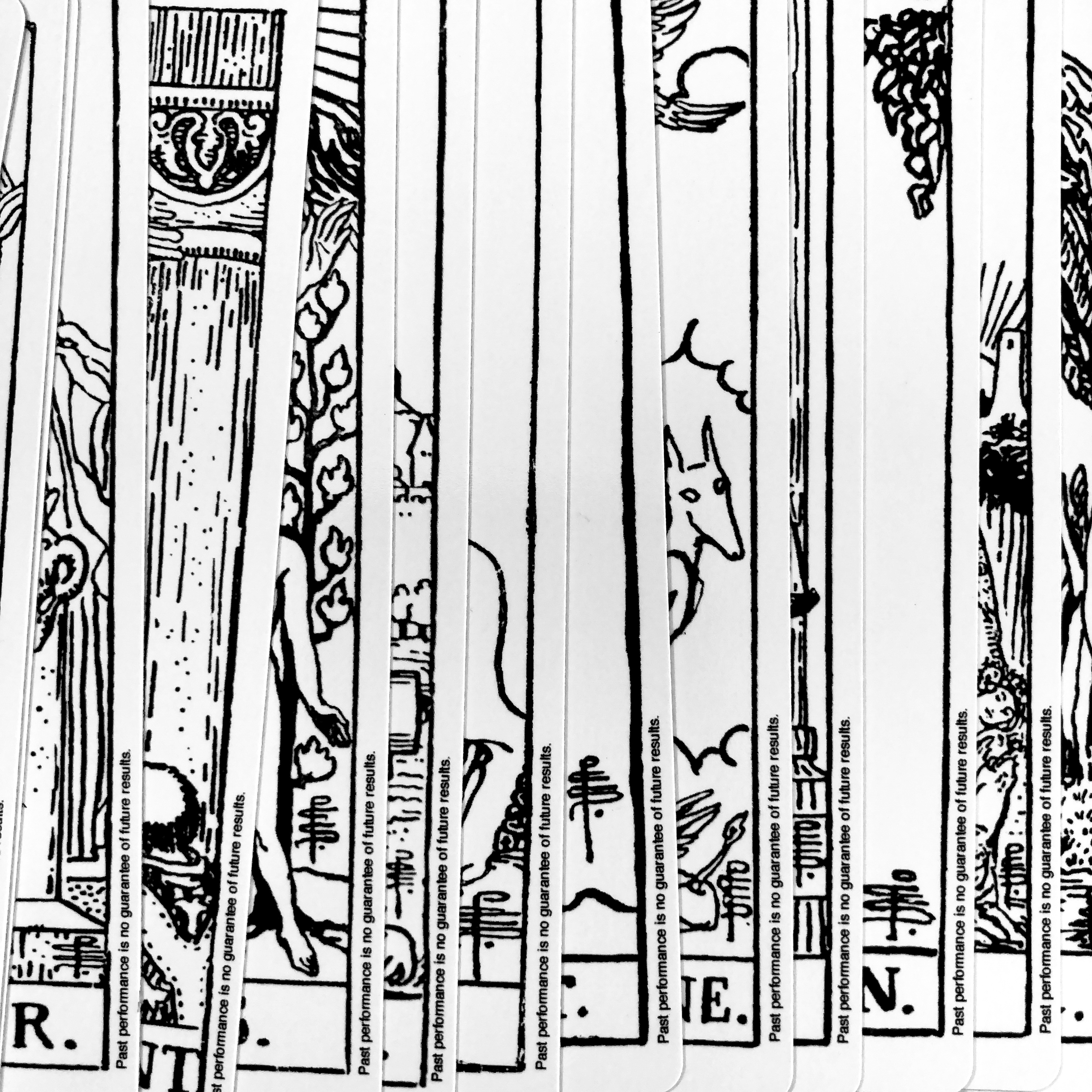 Daily Devotions, 2020
Print on letter paper
Modeled on an Evangelical Bible reading plan, Daily Devotions is a print page with the heading "A Thousand Plateaus in seven weeks," followed by a week-by-week checklist of sections from Deleuze and Guattari's book.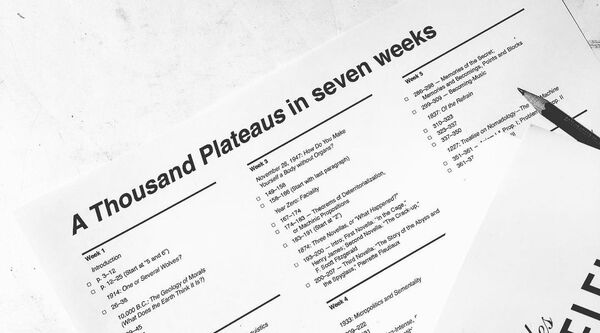 Storytime, 2017
Installation
Materials: felt sheet, felt letters
A large white felt sheet is pinned to a wall. Many letters, also cut out of felt, cling to the sheet. Gallery visitors may move the letters to spell words or create images.
Storytime references the felt boards that elementary school and sunday school teachers use to illustrate stories told to children. It is an appeal for a return to kindergarten aesthetics and ethics.
Created for the exhibition Venn at the Hatch Gallery, at the University of British Columbia.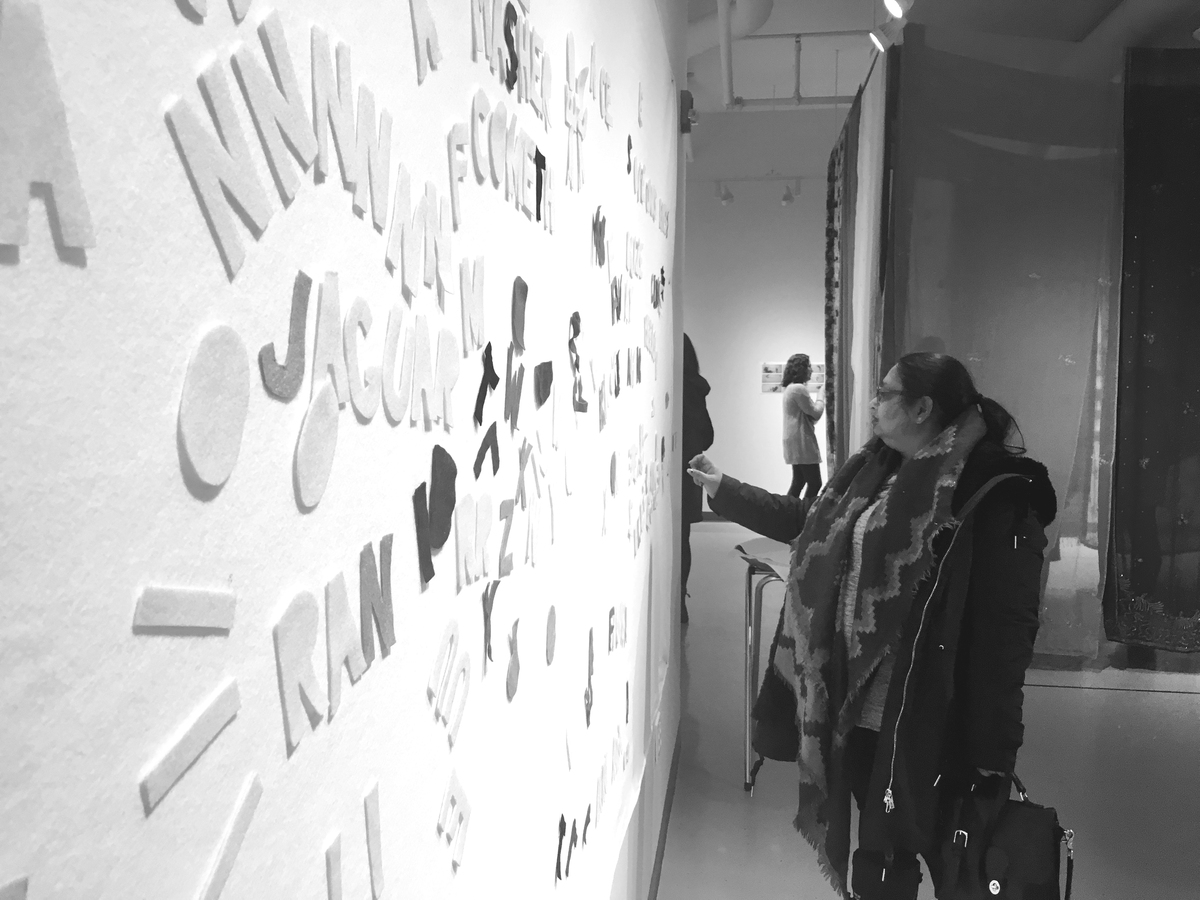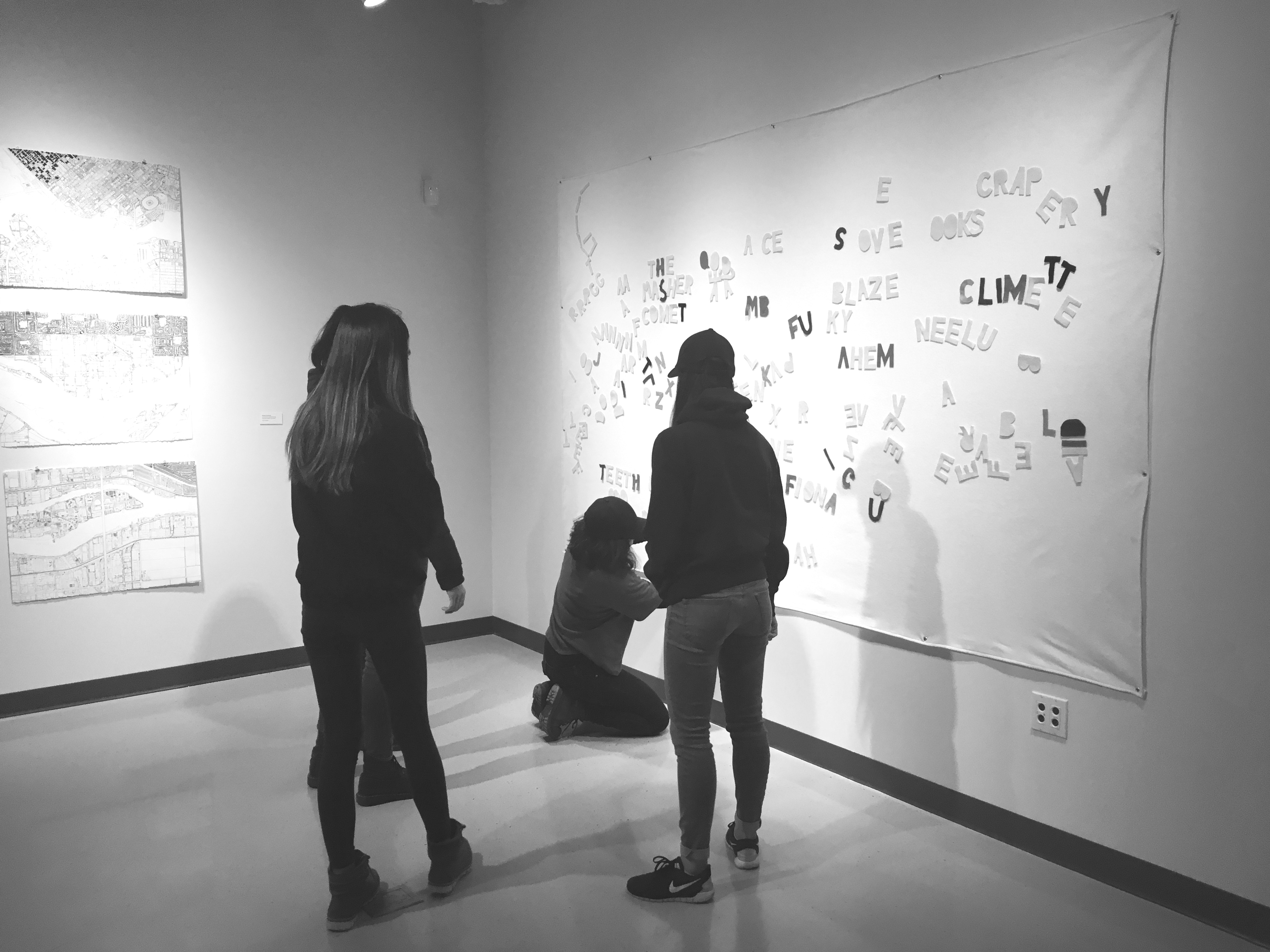 Encouragement, 2017
Telephone hotline
When you need a boost, this is the line to call or text: (604) 330-1528. It responds with encouraging quotations selected from the Goodreads database.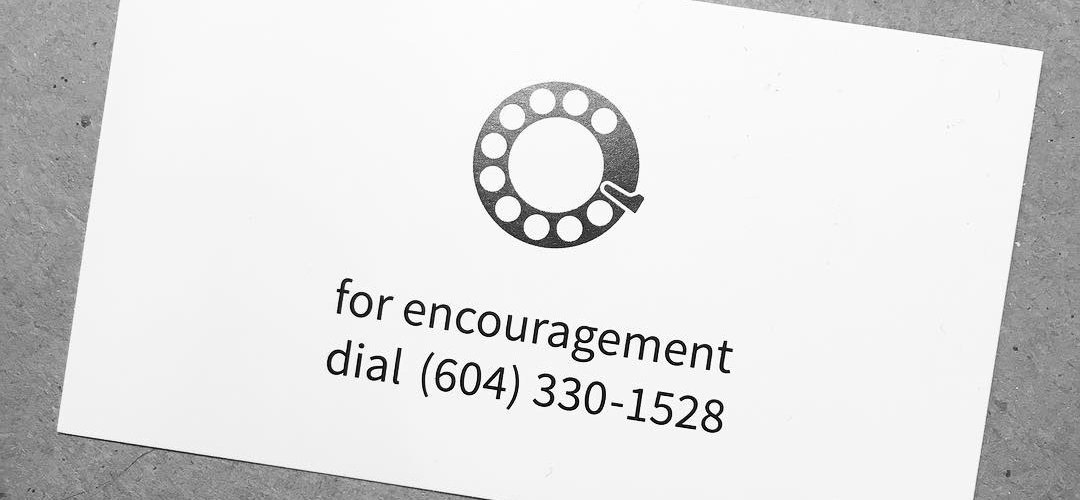 Stare Down, 2016
Card game
Materials: 18 bridge-sized cards, tuck box
A staring contest in a box, for one or two players.
Seventeen of the cards show line drawings of open eyes; the eighteenth has closed eyes. The card backs are a pattern of open and closed eyes. The box says "Stare Down" in big handwritten letters.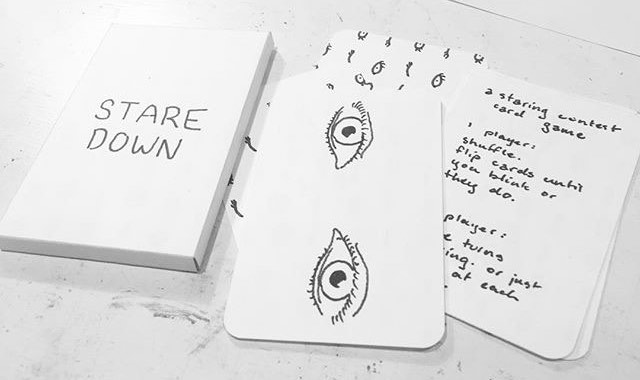 Semanticons, 2015 to 2017
Tile-based board game
Materials: 40 tiles and a set of "clue" cards (each 2 inches square), instructions, lift-top box
In this board game players are challenged to communicate complicated ideas using a very limited set of symbols.
It is both great fun and an engaging demonstration of how we collaboratively construct meaning and ways of interpreting the world.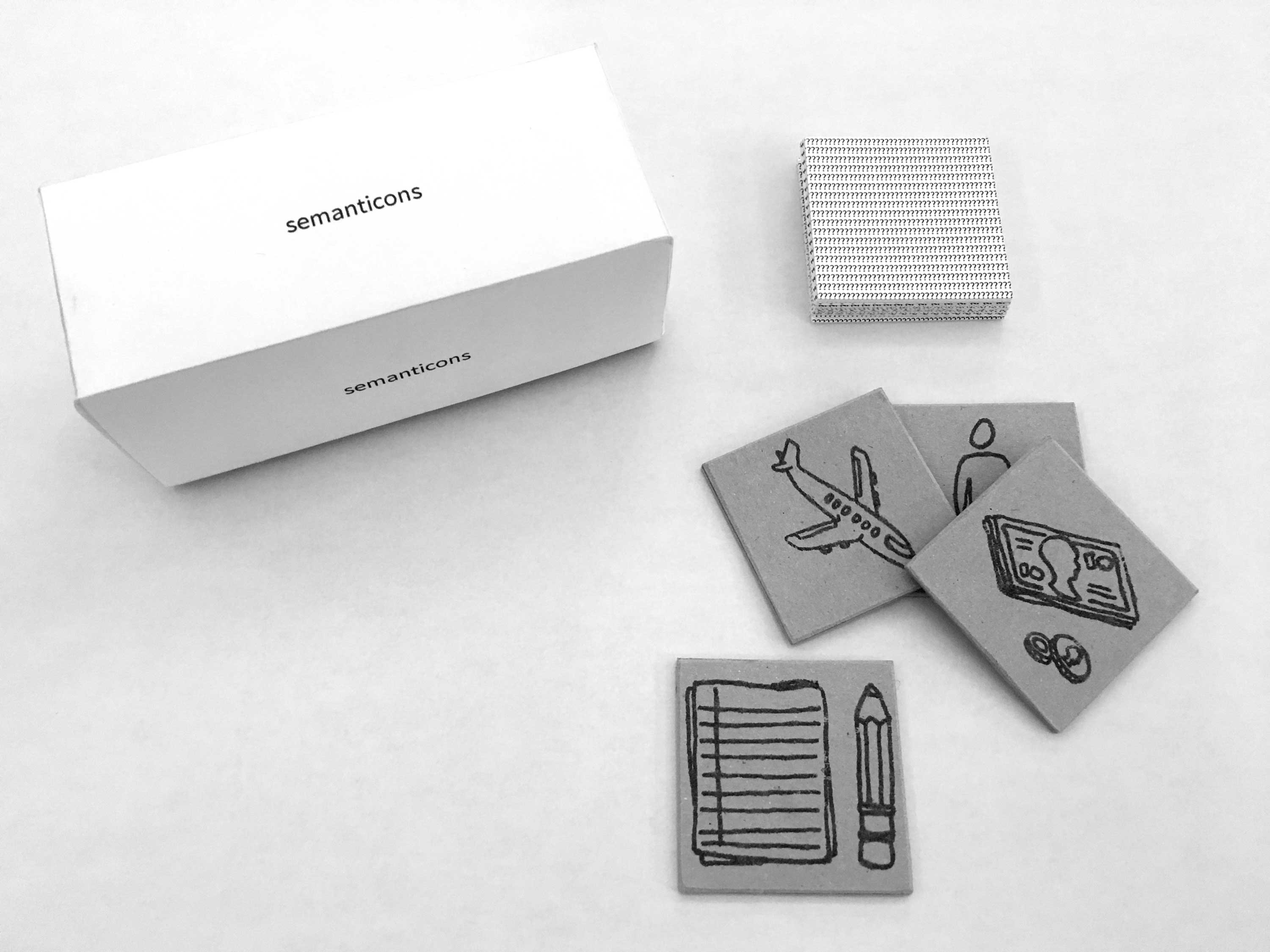 Reflections, 2016
20 black and white film photos
These photos, taken on Vancouver's Skytrain, collapse inside and outside into a single image. The view outside the window merges with the train's reflected interior, producing images that look like double exposures.
Reflections is a reminder to look at what we often look through, and to consider that the separation between inside and outside, between us and the life happening around us, may not always be so distinct.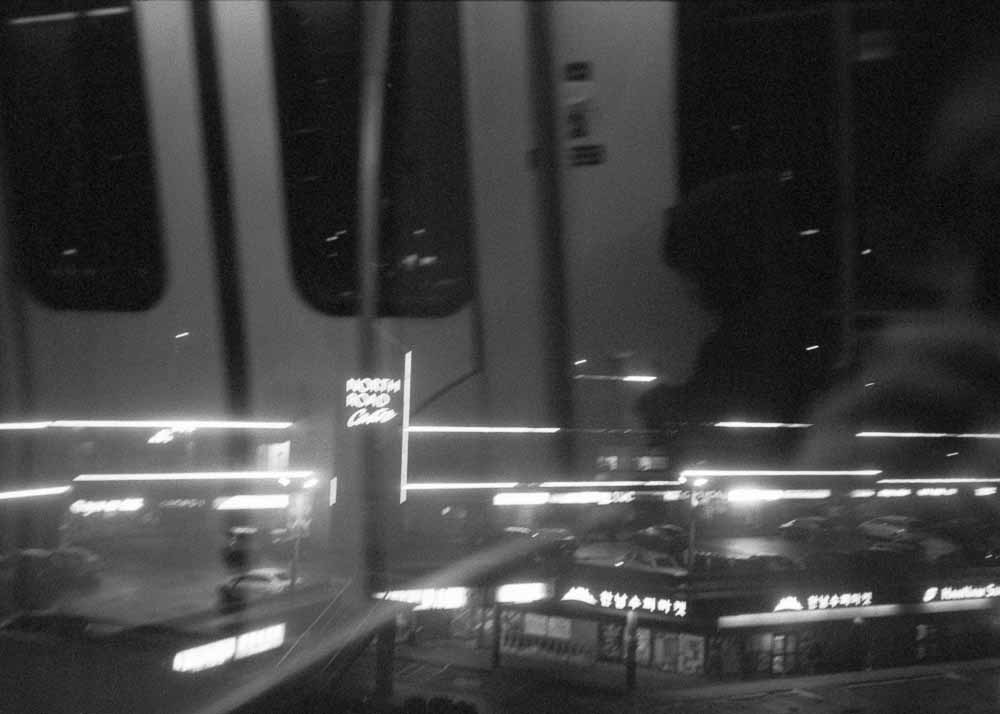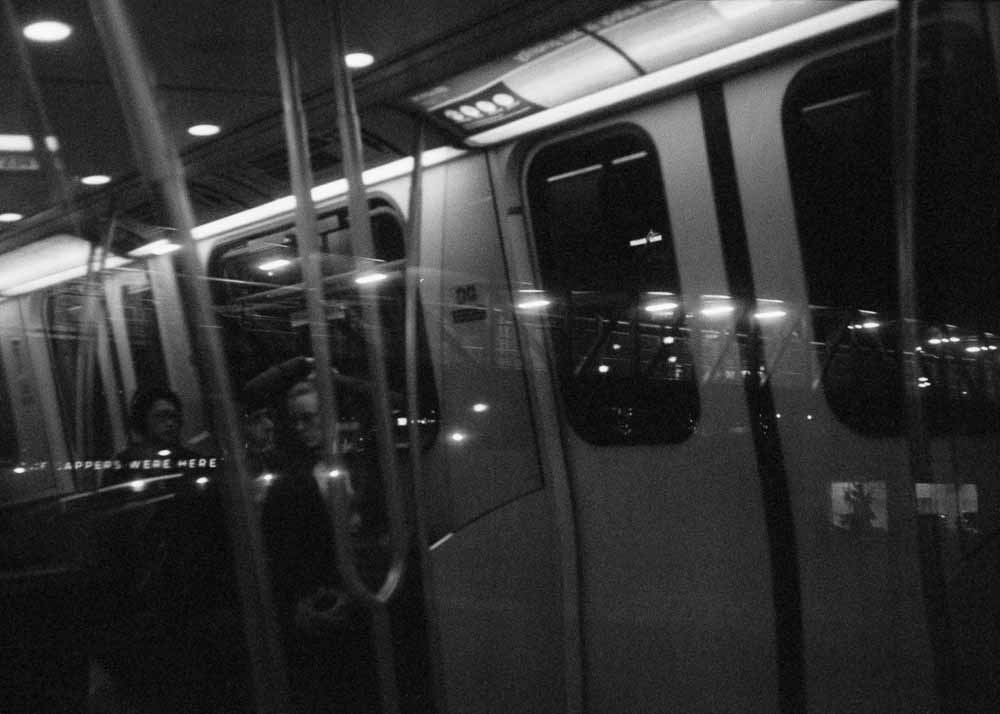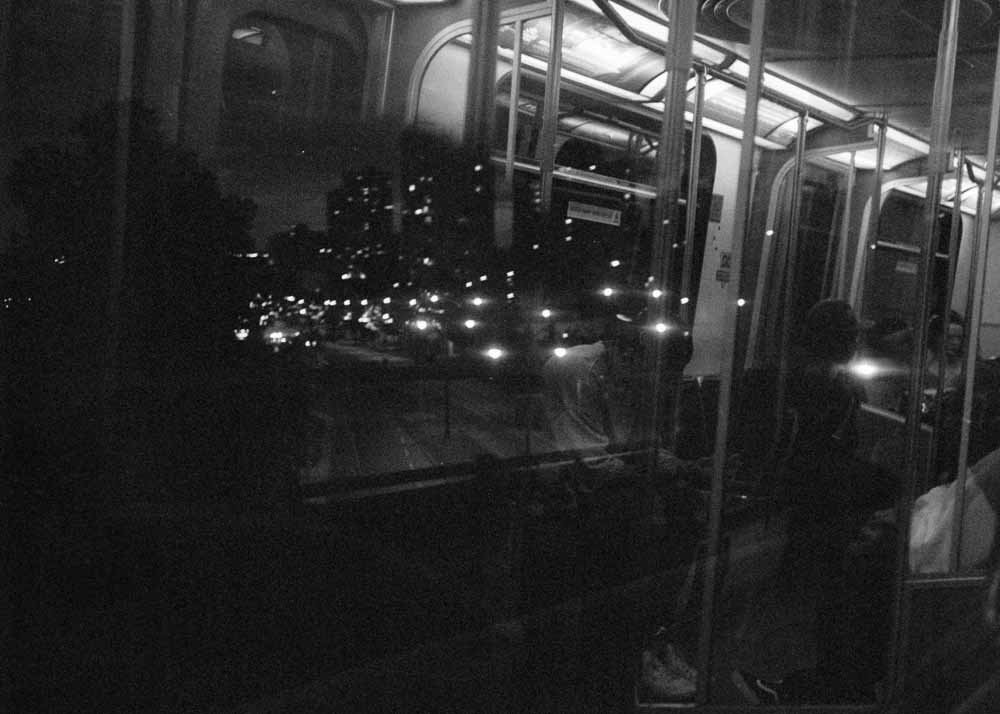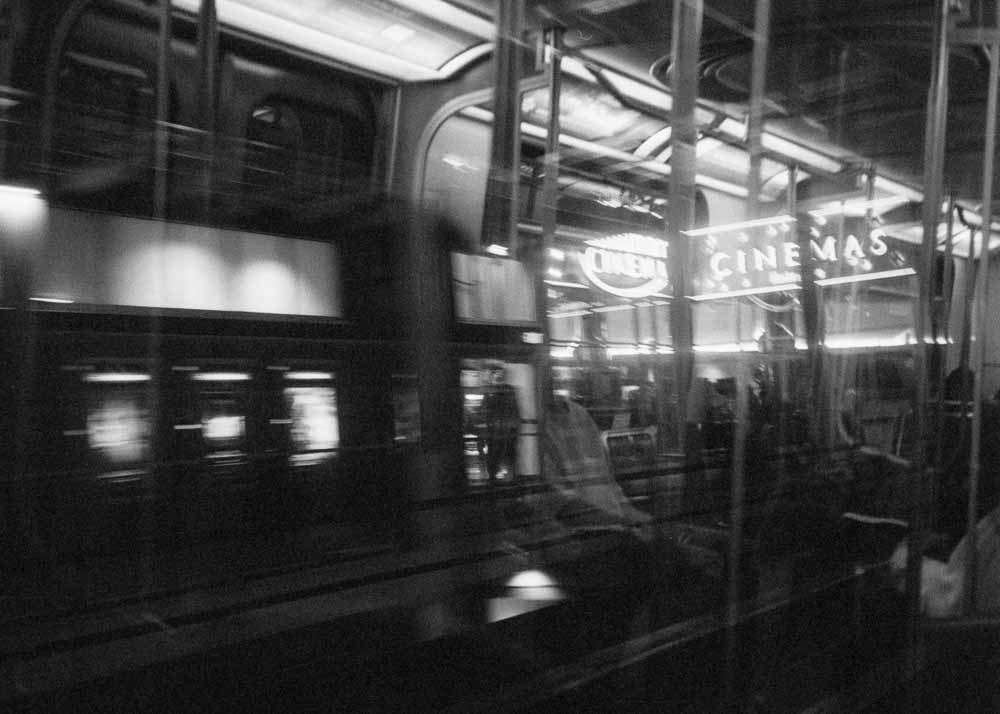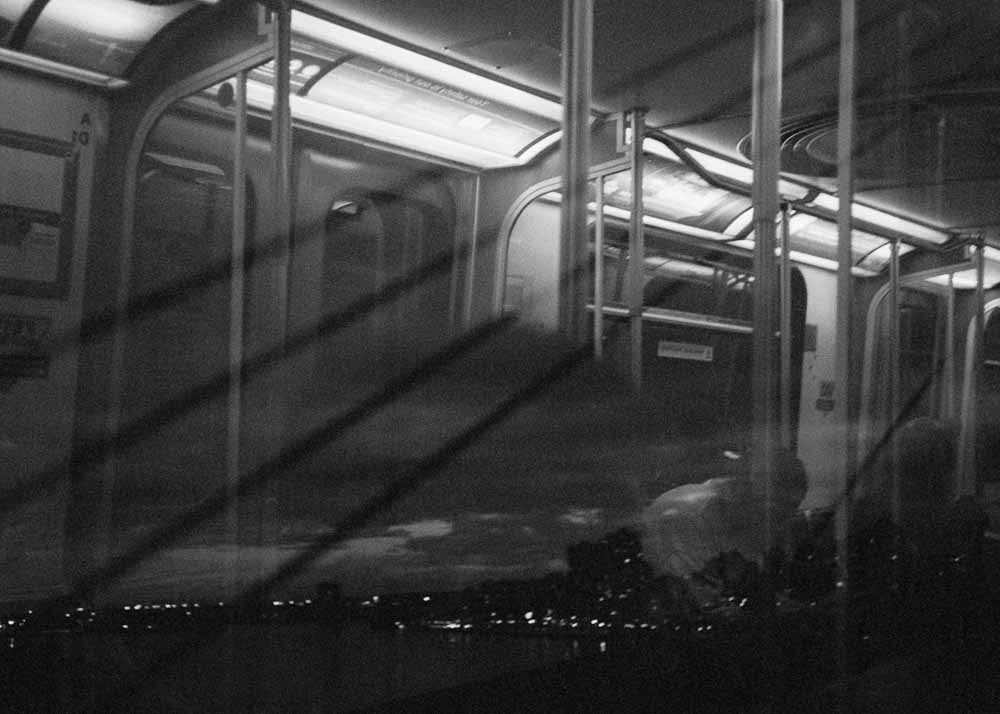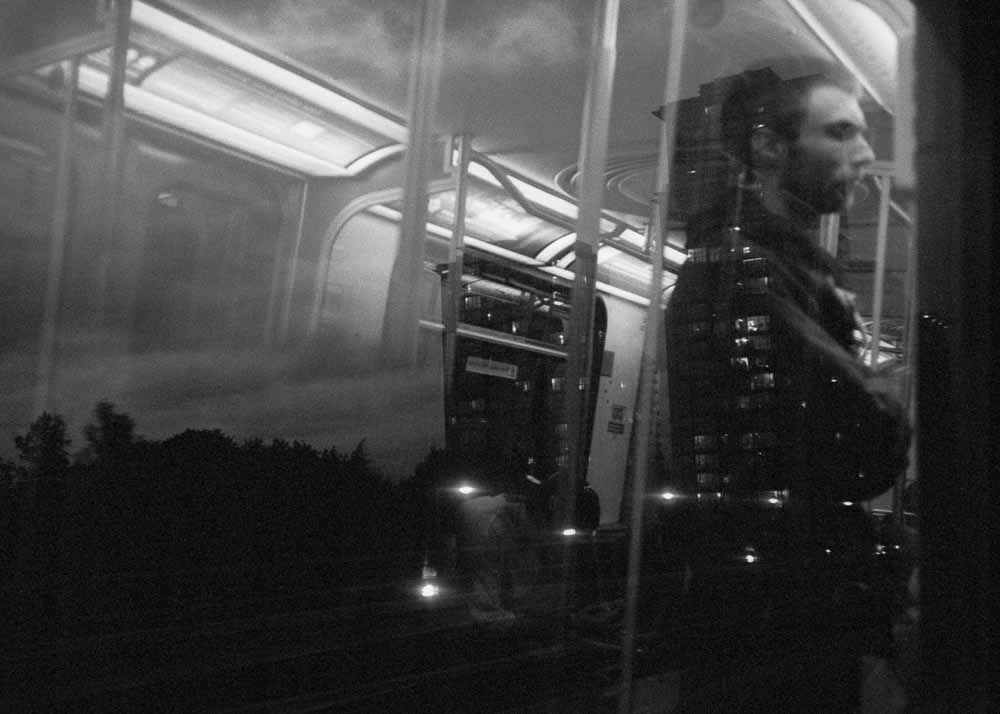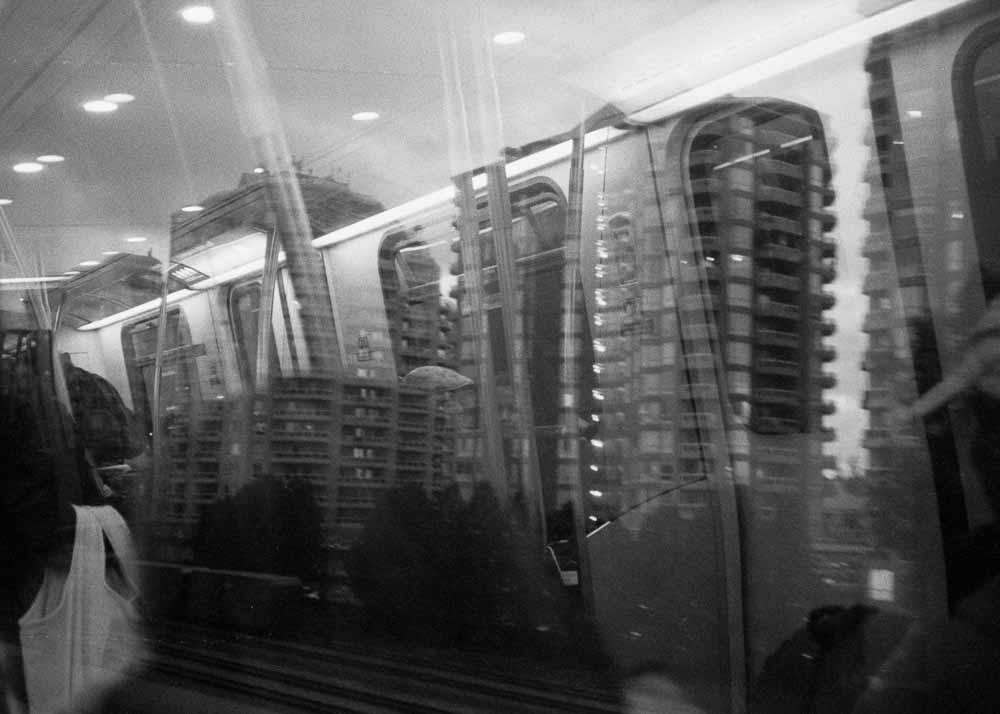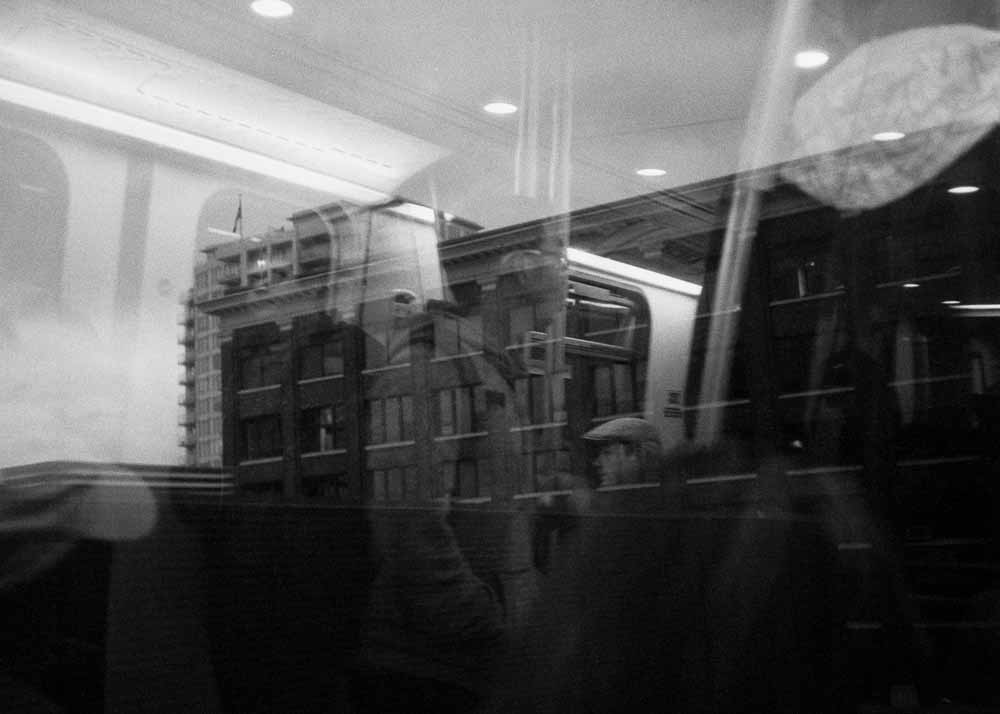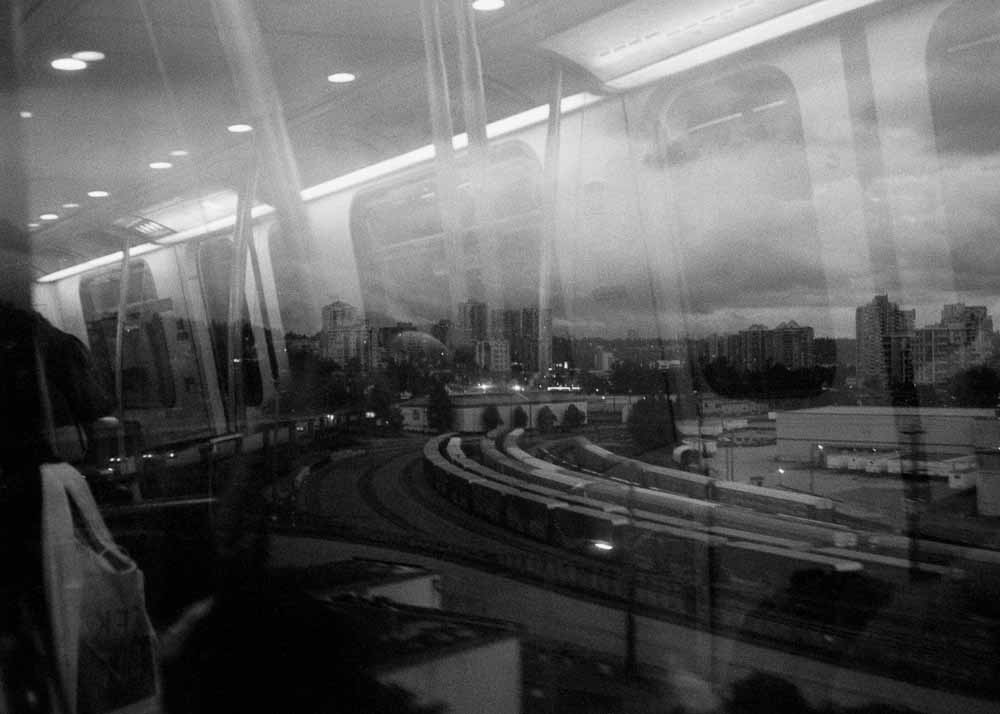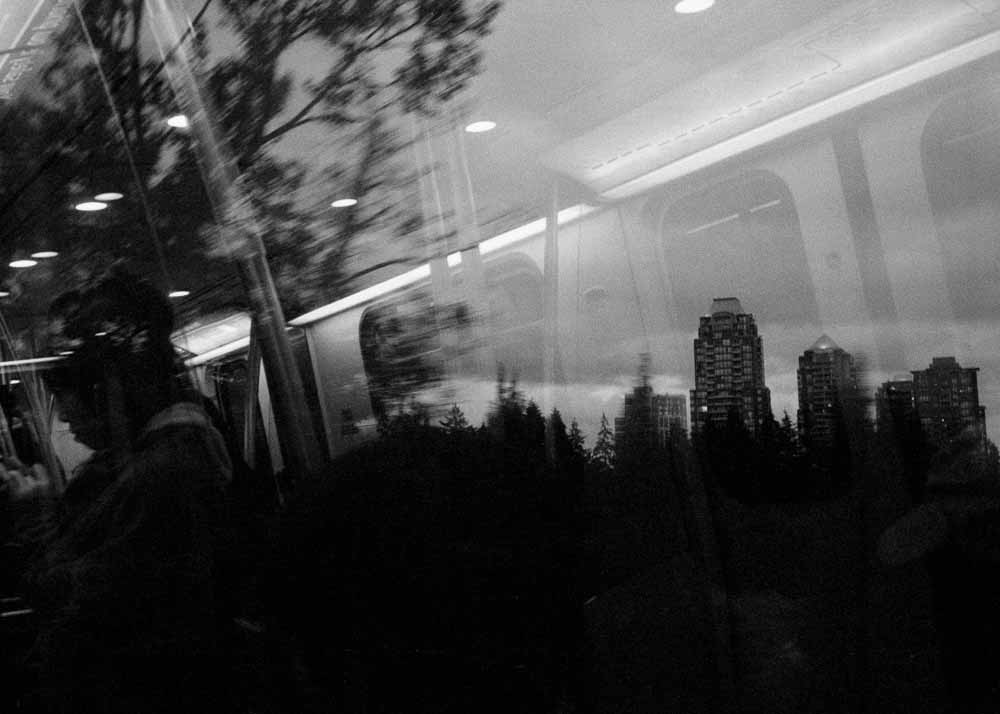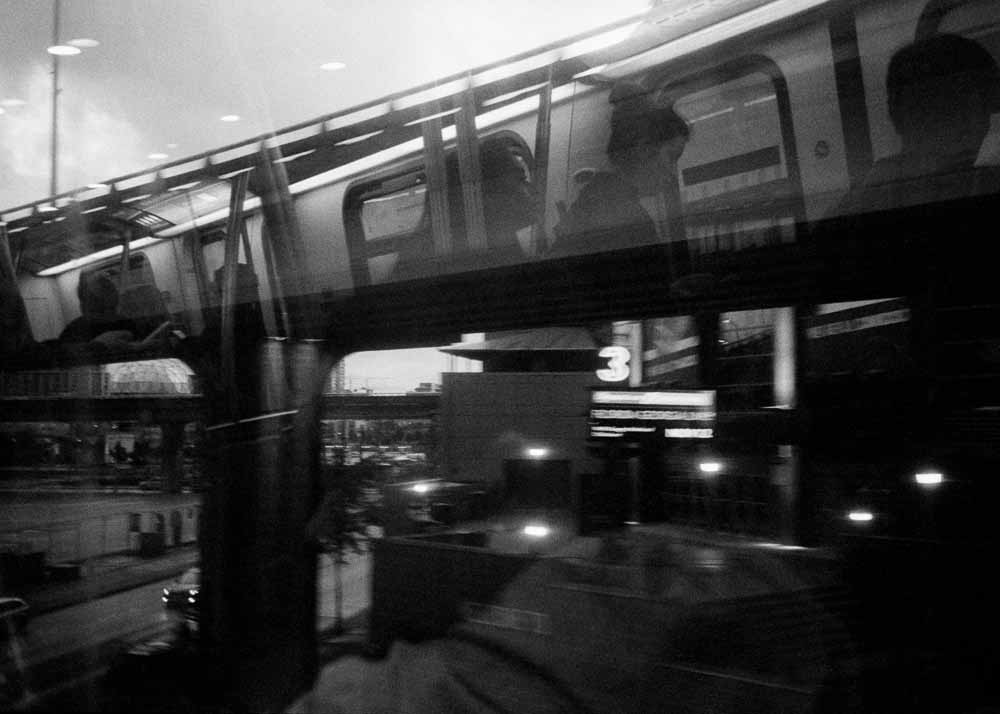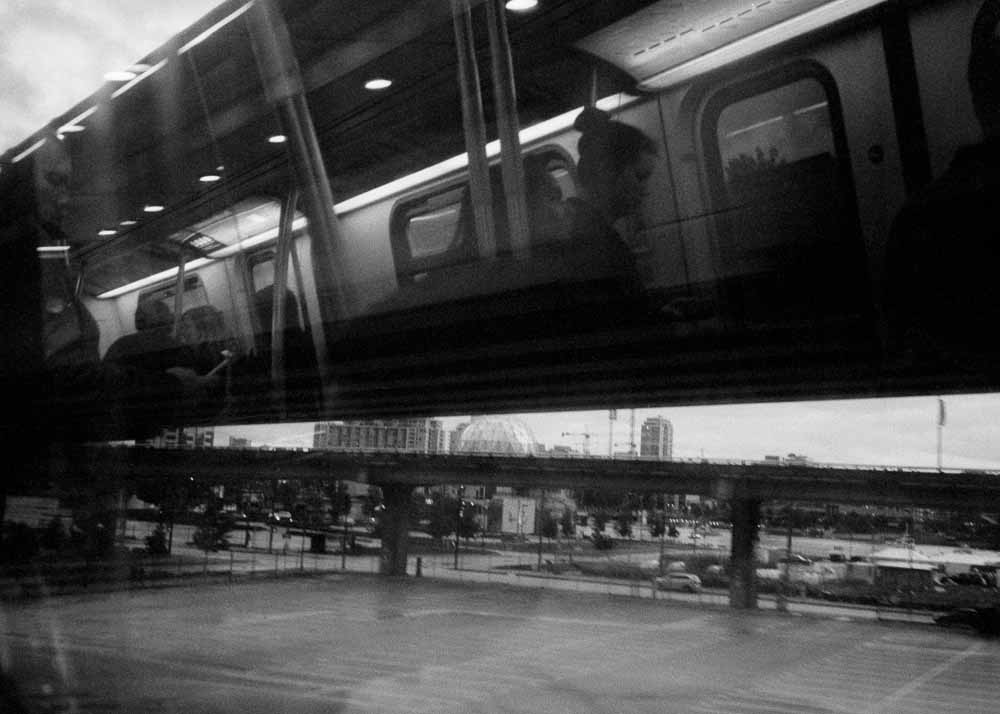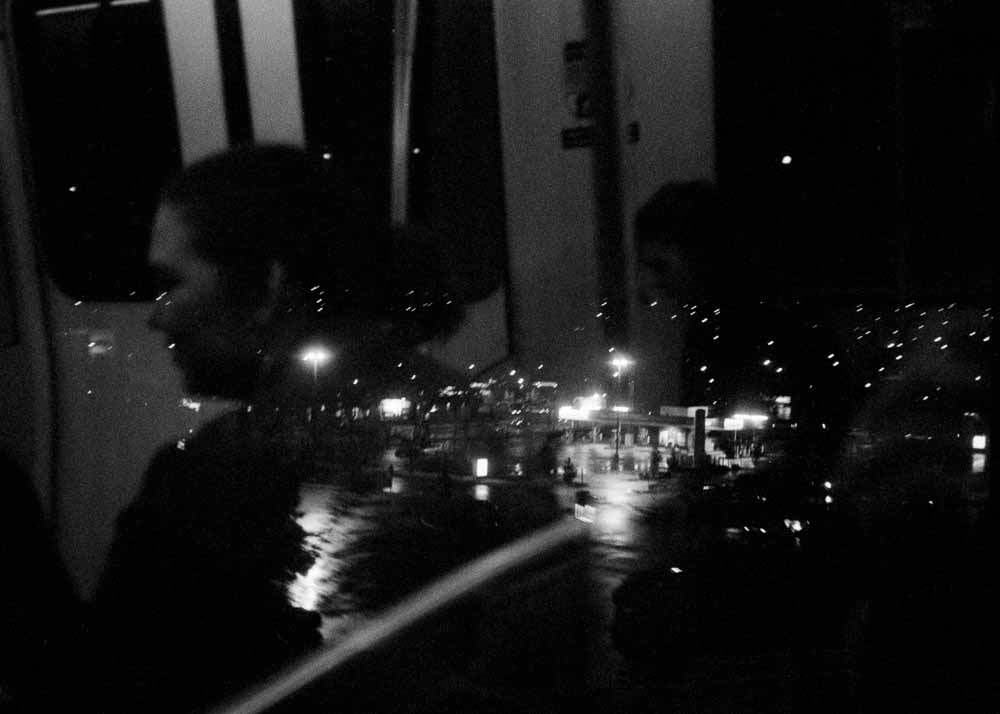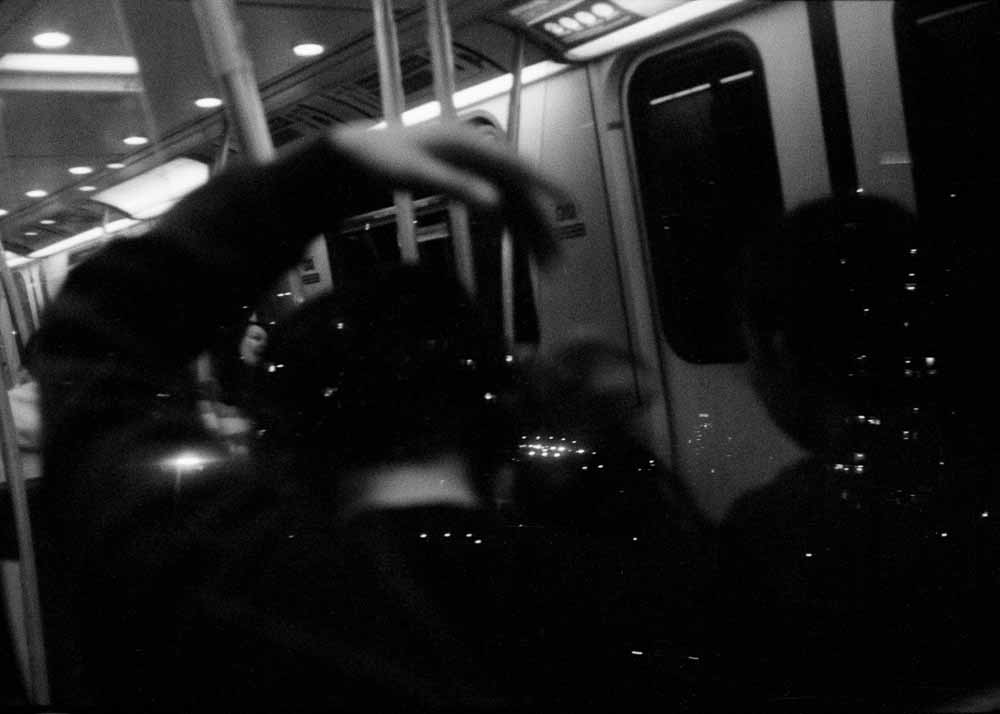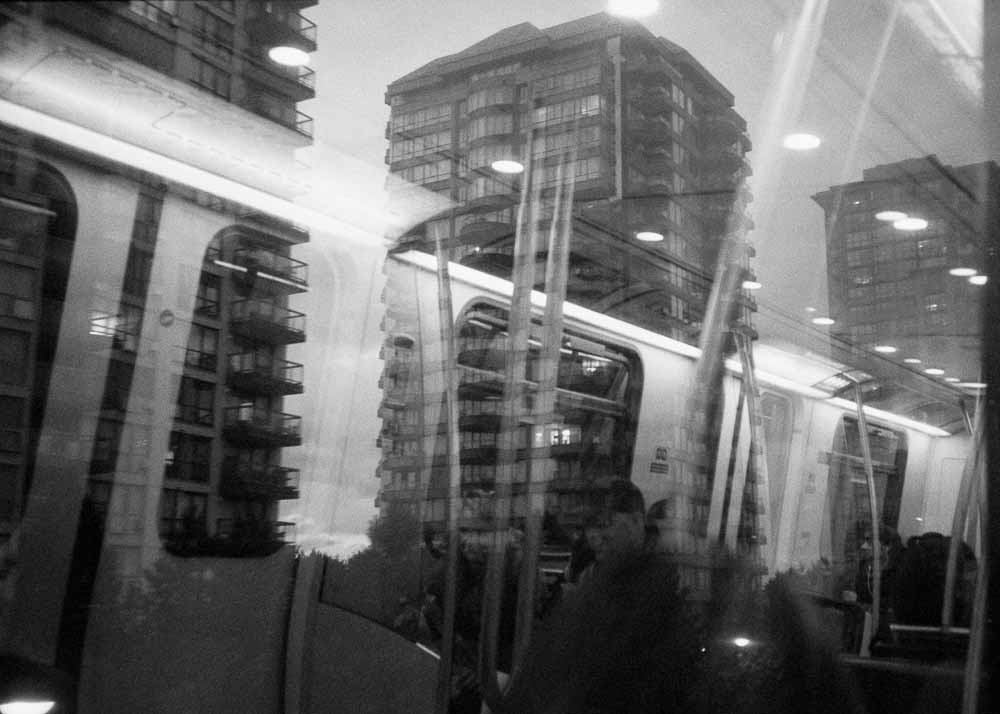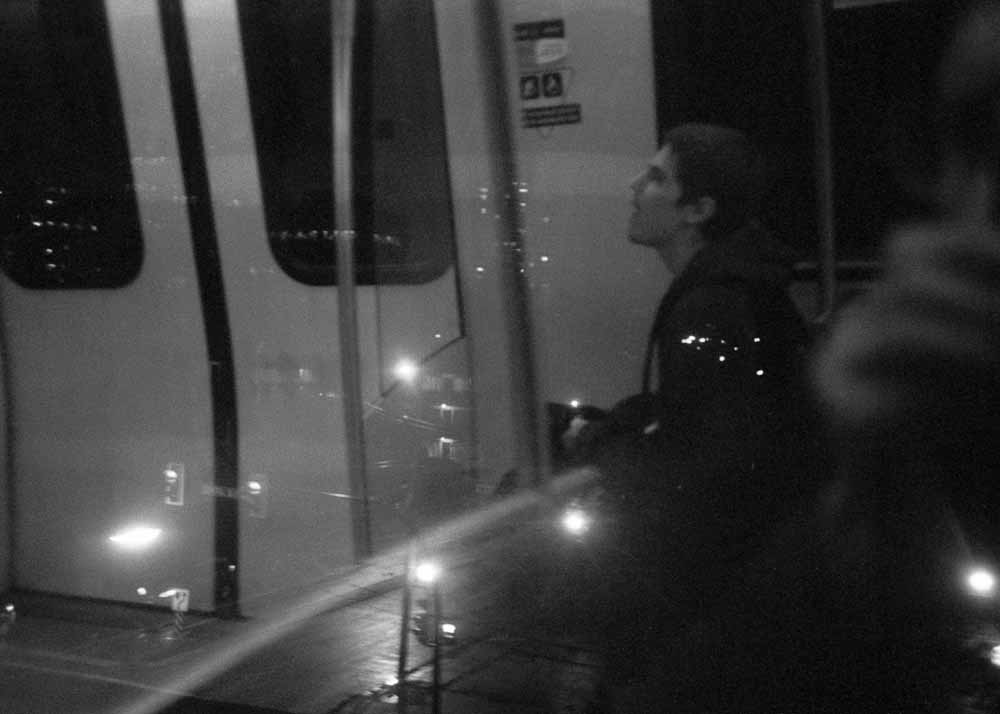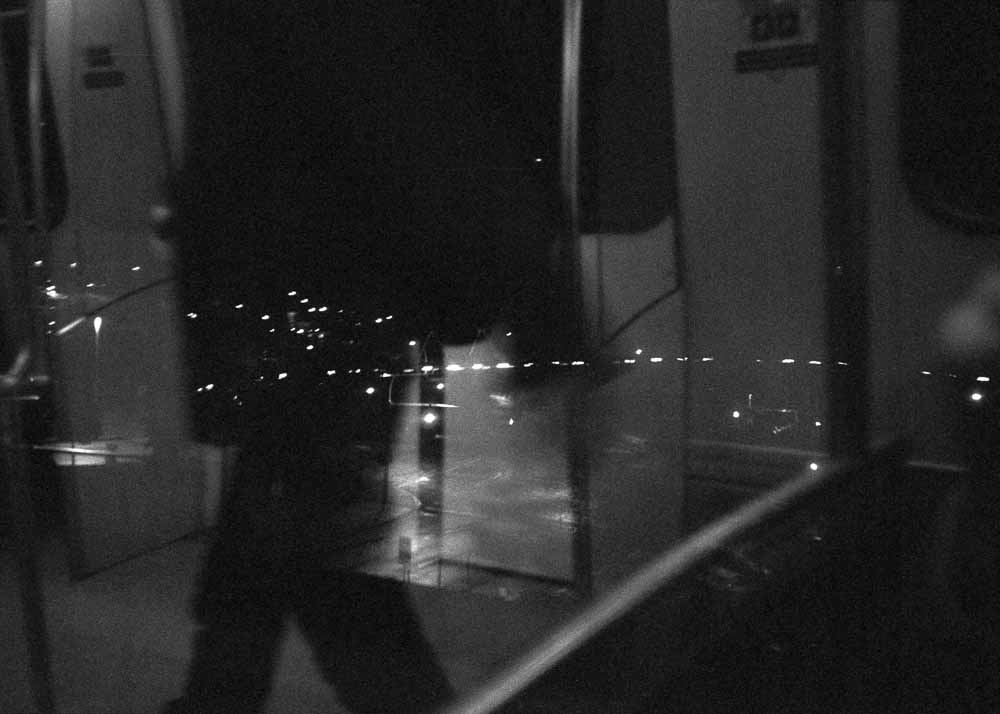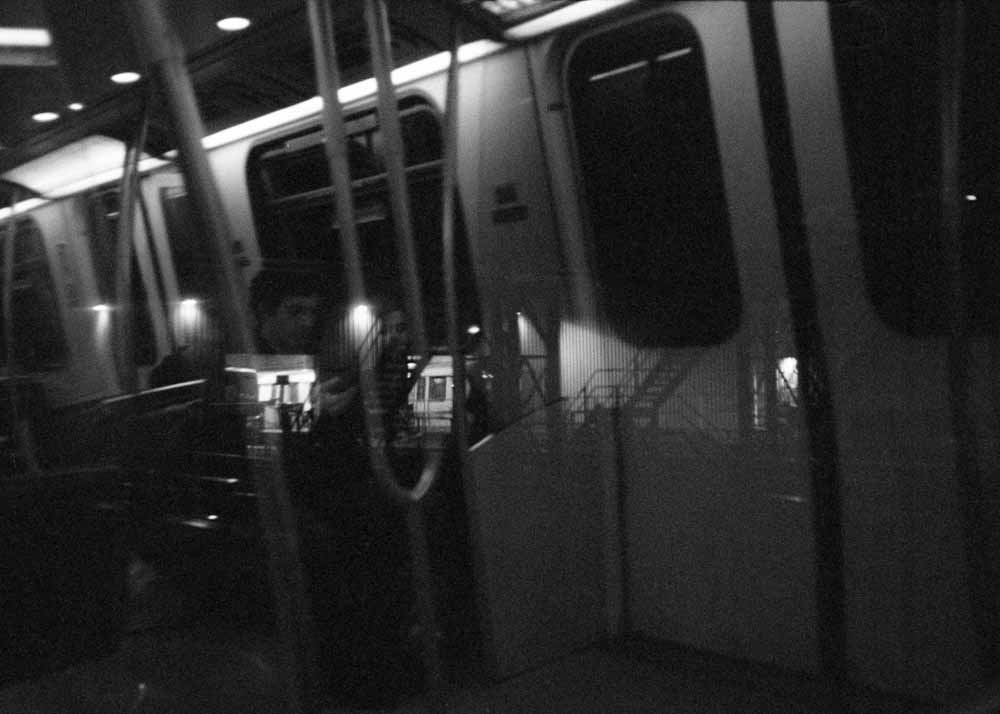 Chants, 2015
Materials: audio CD, paper sleeve
These are recordings of the melodies of Gregorian chants, synthesized using a Nintendo Game Boy.
They are the five "ordinary" chants of the Order of the Roman Rite Mass, as given by the 1981 Liber Usualis. They were created using Little Sound DJ, a music production tool for the Game Boy.
While making this I was thinking about how we develop tradition, how we attach meaning to specific means of expression, and how this changes with time. The intent in bringing together these two incongruous media is to see how we might work through these questions by engaging with them through subjective experience, rather than studious consideration.
Here is the first of the five tracks:
Download the album (.zip) to hear more

Cardography, 2015
Card game
Materials: cards, paper sleeve with velcro closure
This is a game of spatial logic, in which players seek to capture territory by defining its contours. There is some assembly required, however: players must begin by quite literally drawing their cards.
It is a playful diversion first and foremost, but also the product of a struggle with the division between art and game (or art and any other creative product, for that matter).
Download the cards and the rules to print (PDF)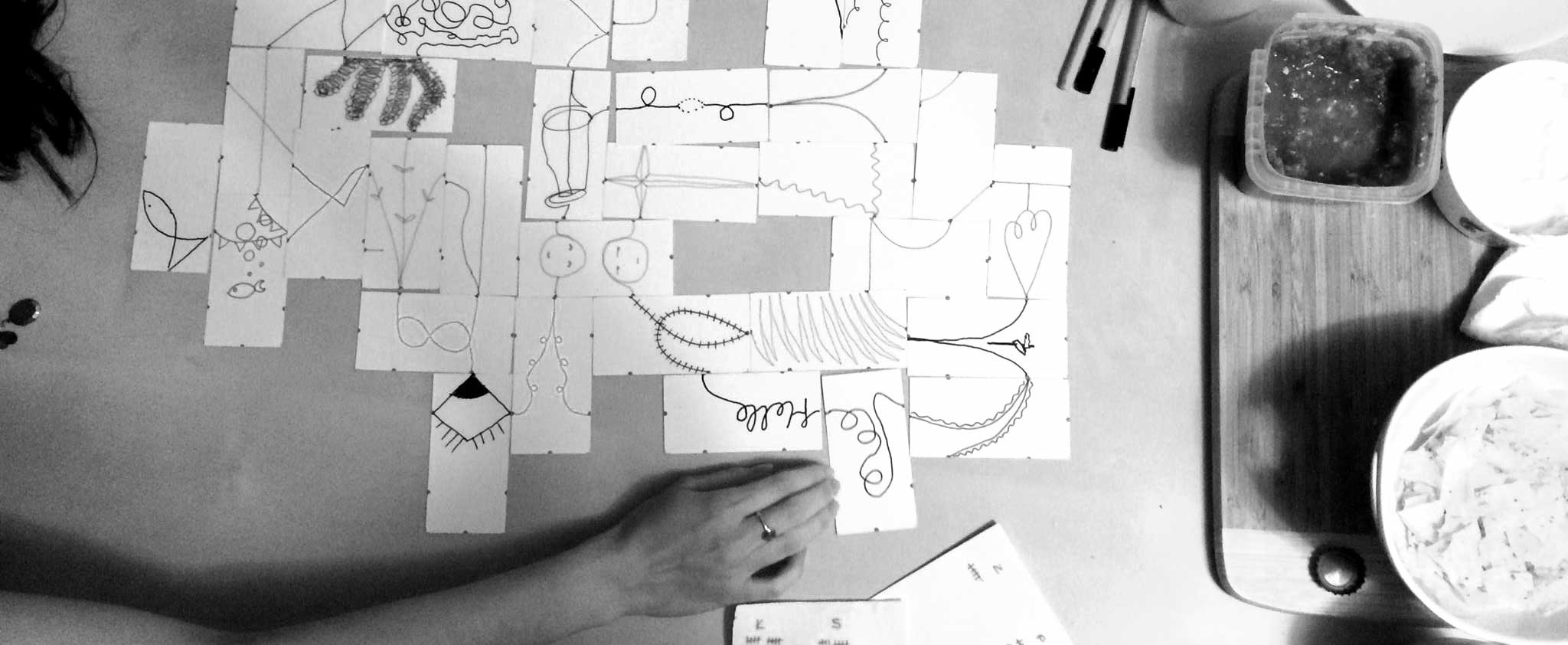 Selffish, 2014
Book
This is a little book of me making faces that look like fish.